Leo Memory Connectivity Platform – the industry's first CXL memory expansion, pooling and sharing solution – has undergone rigorous interoperability testing with a broad range of hosts, memory, and operating systems. Check out our latest Interop Lab Bulletin to learn more.
Now you can deploy CXL with confidence. At Astera Labs, we understand that meeting compliance standards and supporting plug-and-play interoperability are critical for our customers. That's why we have partnered with industry leaders to implement end-to-end CXL tests and tools to minimize interoperation risk, reduce system development costs, and accelerate time-to-market.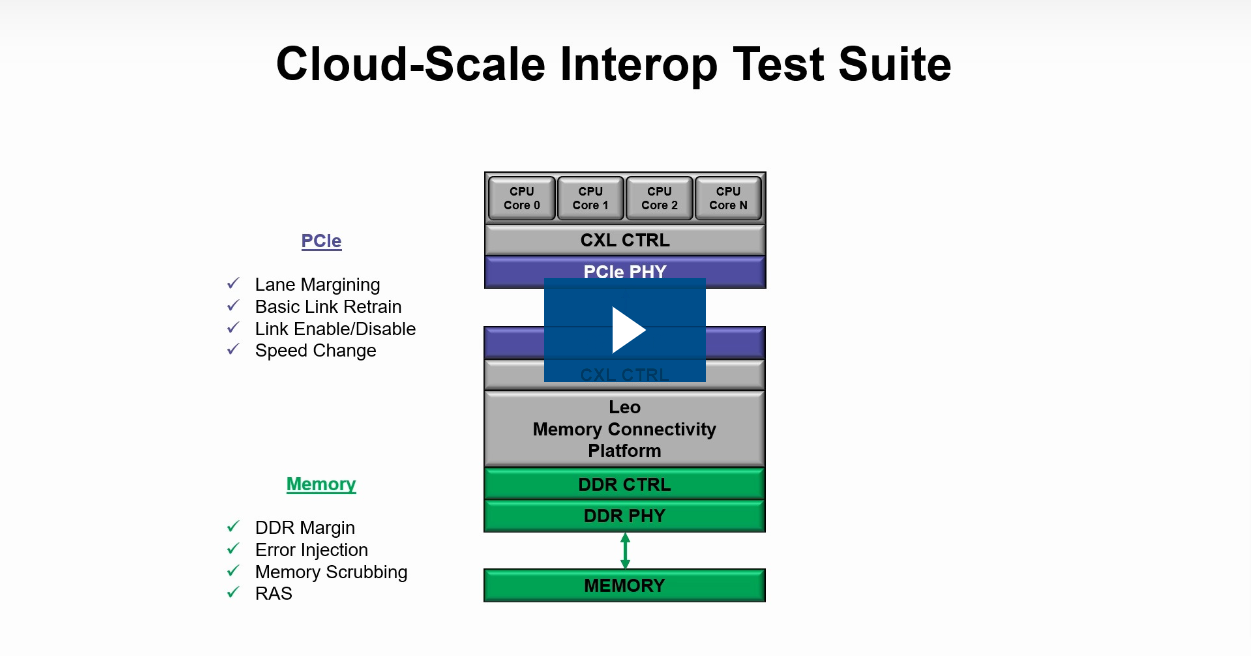 How We Test: Leo Memory Connectivity Platform
Learn how our comprehensive interoperability testing reduces design challenges, so you can accelerate time-to-market, streamline development efforts and reduce costs for designing and deploying heterogeneous infrastructure with CXL technology.
Interop Testing with CXL 1.1 Host CPU's and Popular DDR5 Memory Module
After establishing the foundation of our rigorous testing, we worked with our customers to determine the most popular memory configurations for their systems and applications, to which we've included in our initial interop reports. We include 64GB DDR5-4800 RDIMMs from Micron, Samsung, and SK Hynix, each of which are tested with CXL 1.1-capable CPUs from AMD and Intel.
The Cloud-Scale Interop Lab testing process establishes robust interoperability between Astera Labs Leo Memory Connectivity Platform and industry-leading CPUs and memory, allowing you to reduce risk in designing CXL-based architectures, decrease your development time and effort, and deploy CXL-attached memory with confidence.
Hardware and Software Coverage
Example Tests
CLX Compliance Tests
PCIe Electrical Testing
Transaction Layer Testing
Arbitrator and Multiplexer
Power Management Tests
Reset and Initialization Tests
System & Memory Tests
DDR Tests
Stress Tests
Traffic Tests
Security Tests
Reliability, Availability and Serviceability
Customizable Testing Services
Astera Labs offers tailored performance and interoperability testing services to address each of our partners' specific PCIe retimer integration needs. Contact us to learn more about our customizable testing services.