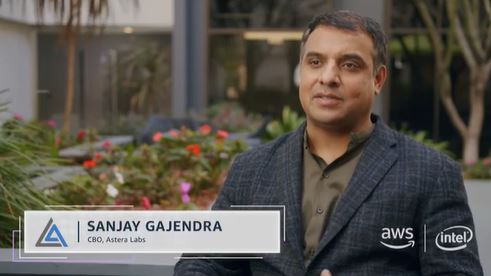 One of our core values is to innovate exponentially, rather than incrementally, in everything we do. Our innovative 100% cloud-based design approach with partners AWS, Intel and Six Nines is yet another example of how Astera Labs delivers high quality results to our customers on time, meeting spec and within budget. Learn more about our journey in this video produced by AWS and Intel.
Jitendra Mohan, Chief Executive Officer of Astera Labs, discusses our collaboration with Intel Capital and continued mission to solve connectivity bottlenecks throughout the data center. Solutions such as our Aries Smart Retimer for PCIe 4.0 and 5.0 are key for our customers to easily design systems that overcome complex performance challenges of intelligent systems.
Astera Labs' Head of Systems and Applications Casey Morrison and Technical Staff Member Pulkit Khandelwal will be presenting about signal-integrity challenges of PCIe 5.0 and the corresponding OCP system design challenges at OCP Global Virtual Summit on May 13 from 11:40-11:55 am Pacific.