We are excited to share that we have been named a Best Place to Work in the Bay Area by the Silicon Valley Business Journal and the San Francisco Business Times.
We are honored that we made the list based on the anonymous survey response from our employees in our Santa Clara headquarters. The survey covered such topics as collaborative culture, management practices, compensation and benefits, as well as other work amenities.
Jitendra Mohan, CEO and Co-Founder of Astera Labs, said: "We are extremely proud of the culture that we have created at Astera Labs. Our culture is closely tied to our core values and is integral to who we are as a company and how we operate. This award is a tribute to our team who embody our values every day with a spirit of innovation, a commitment to execution, and unwavering integrity – making Astera Labs a great place to work."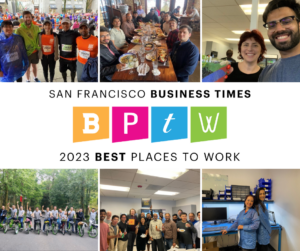 What makes working at Astera Labs so great?
We thrive on being able to make an impact. We are an award-winning team that is building intelligent data center connectivity solutions that are changing the game for artificial intelligence and machine learning applications.
We are growing with strong momentum through 2023 and beyond. We are expanding our portfolio of class-defining semiconductor and systems-based solutions and we are adding to our global footprint with new R&D centers in Canada and Israel.
We are innovators and lead the industry with PCIe®, CXL™ and Ethernet solutions. We are working with the most technologically advanced hyperscalers, cloud service providers, and enterprise OEMs to help them deploy intelligent data center connectivity at scale with optimized performance and reduced latency.
We are passionate about service to our local community. We organize regular service days for food banks, toy drives, park clean-ups, and more. We also provide mentoring to high school students through our summer internship program.
We have fun and we're family-oriented. Many of our team-building activities are initiated and led by our employees – everything from a bi-weekly "All-In Fitness at your Desk" course, to leading classes on the performative art of Poi, to holding the office "SpiceMaster" challenge.
We continue to grow our team across all locations. Check out our Careers page for available opportunities.