In this video, we showcase the Leo Memory Connectivity Platform that not only unlocks the many exciting benefits of CXL technology, but also features server-grade customizable Reliability, Availability and Serviceability, end-to-end security, extensive fleet management capabilities and seamless interoperability with all major CPU, GPU and memory vendors for cloud-scale deployment.
Learn about Astera Labs Leo Memory Connectivity Platform, the industry's first purpose-built solution to unlock the full potential of data-centric systems based on Compute Express Link™ technology.
Learn more about Leo CXL Memory Connectivity Platform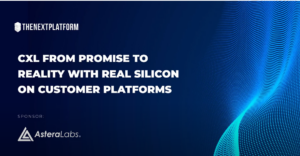 CXL from Promise to Reality with Real Silicon on Customer Platforms
Astera Labs is developing purpose-built data and memory connectivity solutions that remove performance bottlenecks throughout the data center. Our silicon, software, and systems-level solutions based on CXL, PCIe and Ethernet technologies are helping our customers realize the vision of Artificial Intelligence and Machine Learning in the Cloud.
Ready to find out more?
Contact us for more information about how you can design with confidence and accelerate your time to market.