In this video, VP of Products Casey Morrison introduces the new Leo CXL™ Memory Accelerator Platform, which enables robust disaggregated memory pooling and expansion for processors, workload accelerators, and smart I/O devices.
Additionally, the video features a CXL interoperability demonstration using Astera Labs' Solstice 3U Riser Card, an Intel Sapphire Rapids-based system, and a CXL prototyping platform. The demo shows a fully formed CXL link as well as the Aries Python-SDK with each link lane's status, including the detected CXL protocol, signal quality parameters, link training results, and other real-time diagnostics.
Meet the Leo CXL™ Memory Accelerator Platform for memory pooling and expansion applications; view our CXL interoperability demonstration using the Solstice 3U Riser Card.
Learn more about Leo CXL Memory Accelerators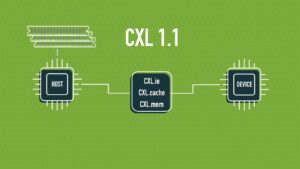 Introduction to Compute Express Link™ (CXL™) Technology
Learn how CXL™ technology enables data centers to achieve higher performance through increased memory capacity and bandwidth at lower latencies.
Ready to find out more?
Contact us for more information about how you can design with confidence and accelerate your time to market.