Enabling Low-Cost PCB Material for Next-Gen PCIe® 5.0 Systems​
The rapid innovation in specialized workloads – like artificial intelligence and machine learning – demand high-bandwidth, low-latency interconnects between processors, workload accelerators, and storage nodes. Heterogeneous computing and modular server designs are redefining the connectivity backbone in the next generation of servers.
Specialized semiconductors will help enable this connectivity backbone, and system designers expect plug-and-play interoperability to accelerate technology adoption.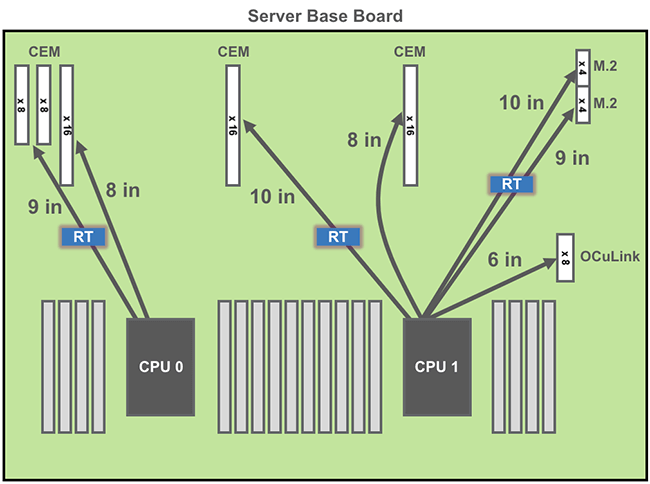 Requirements & Challenges
Signal loss at PCIe® 5.0 speed (32 GT/s) can be too high for farthest CEM slots (>5 inches from CPU)​
PCB material upgrade is prohibitively expensive and will not solve reach problem for 9+ inch slots
Dense Base Board design requires Retimer solution with smallest total footprint​
Aries Retimer Benefits
Supports reach extension >36 dB on both Tx & Rx with best-in-class SerDes​
Minimizes total solution size with integrated decoupling and AC caps​
Saves BoM cost > save system cost​
Up to 16 Lanes with Flexible Link Bifurcation Including 1x16, 2x8, 4x4, 8x2, and others​
Deep diagnostic features provided in BMC-qualified SDK​
| | | | | | |
| --- | --- | --- | --- | --- | --- |
| | | | | | |
| | | Astera Labs PCIe® 4.0, PCIe 5.0, and CXL™ x16 and x8 Low-Latency Smart Retimers | | | |